*Warning, This is a Long How To* - I will have to take more pics as I get around to it. sorry if some parts don't have pics yet.
Okay guys. I have been wanting to put this how to together now for a couple days. Iím going to show you guys how to install a full nitrous kit, with purge, window switch, the whole ordeal. Only thing you wonít see how to install is a bottle warmer, fuel pressure regulator or remote bottle opener, but once I get those I will add them in.
Okay first off, the kit I have is the NX (Nitrous Express) Stage 1 EFI kit, Duel Zex purge kits, NX non digital Window RPM switch, with ZEX bottle brackets and a NOS 10lb bottle. My kit was pieced together using some used and some new parts, but most kits will include everything you need. The purge, window switch and tach adaptor are separate though.
What you will need:
*Nitrous Kit*
Nitrous Bottle of your choice, (I recommend it has a high flow valve)
Bottle Brackets
Nitrous and Fuel Solenoids
WOT Switch and Toggle Switch
NX Relay w/ wire harness
Shark Nozzle with Adaptor fitting
Bag of Jets
Feed Line (10-15ft, suggest 15ft)
Nitrous and Fuel lines
Homemade Fuel T
Metal Brackets for mounting solenoids/WOT switch
*Purge Kit*
Purge Solenoid(s)
Purge Nitrous T(s)
Purge braided line(s)
Compression Fitting(s)
Metal tubes or hose for release
Brackets for mounting solenoids
Purge button
*Window Switch*
A Window switch of your choosing (I used NX)
Brianj Tach Adaptor (Pm him)
Window Switch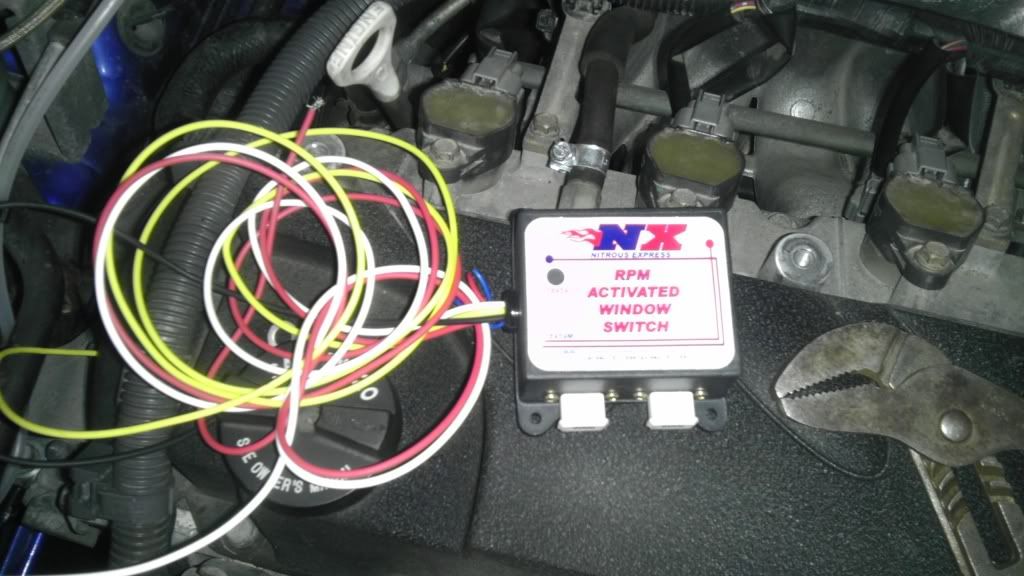 Tach Adapter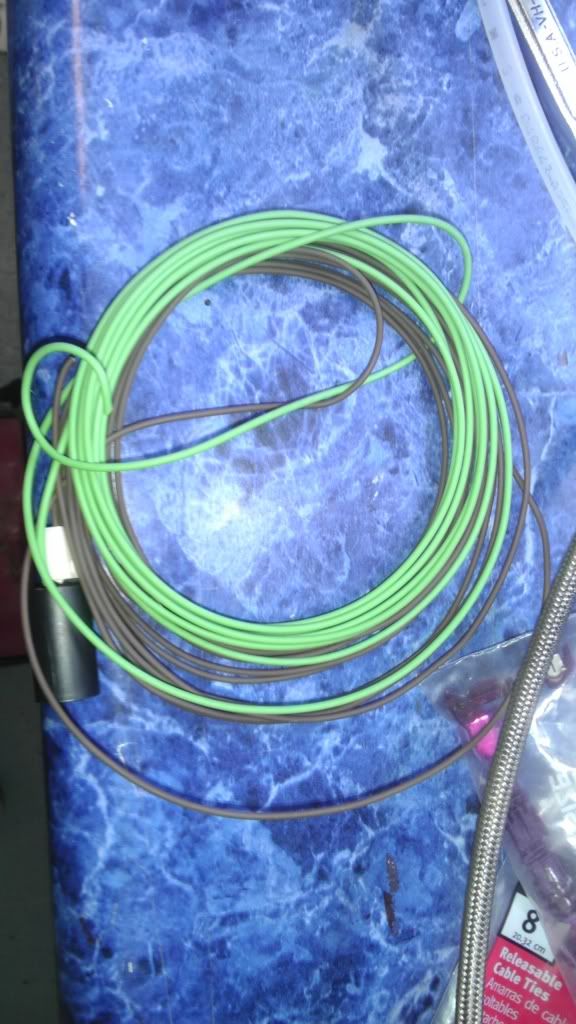 *Other items you WILL want to pick up*
Extra wire, multiple gauge
Butt connectors
Wire Loom
100-200psi fuel line
Hose clamps
Add a fuse(s)
Thread sealer or thread tape
7.5amp and/or 10amp fuses
Male/Female lead connectors
Silicone Gasket
Zip Ties
Process of installation:
1. Okay, now this is going to take a lot of planning. The first step is going to be this. I want you to sit down, or look at the car, and kind of map out how you are going to run everything. How to run your wiring, where to mount your solenoids, where to mount your bottle, switches, etc. Try to know exactly what you want to do before you start. You can use my methods as an example, or a blueprint. Once that is done, letís start mounting the solenoids.
How mine are mounted: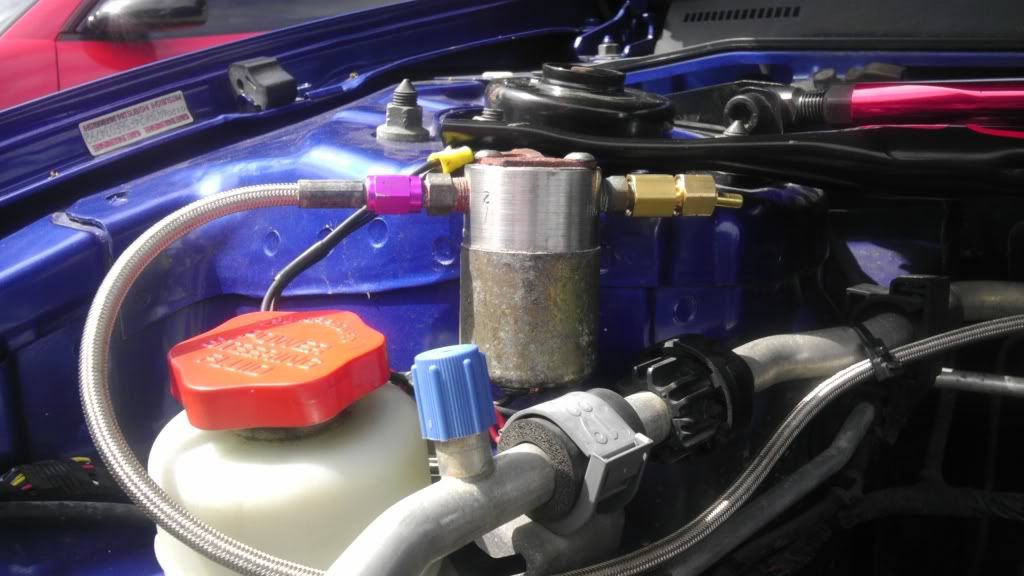 2. Okay, what I did was mount my solenoids, and then determined how much wire I would need in between to start merging them. The cool things about these solenoids are they are an open current. Meaning either of the two wires coming from them can be used as the ground or hot wire. So first, take one wire from each solenoid, and run them together, measure how much you need and cut them. These are going to be your ground wires. Go ahead and solder or splice them all together, and find where you are going to ground them. I grounded mine on the bolt holding the electrical bracket to my tb. As seen in the picture below.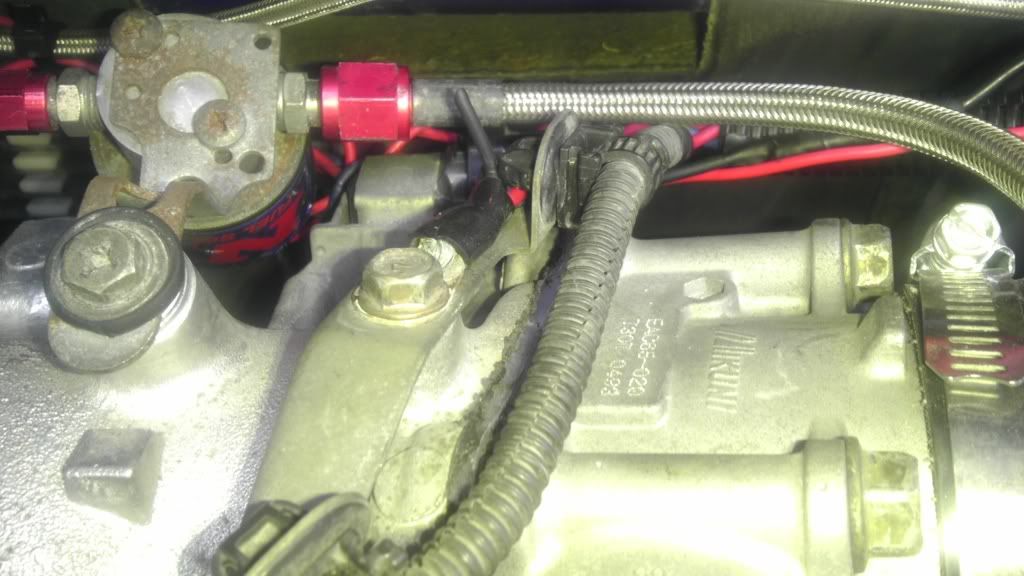 Here is where I grounded my second purge solenoid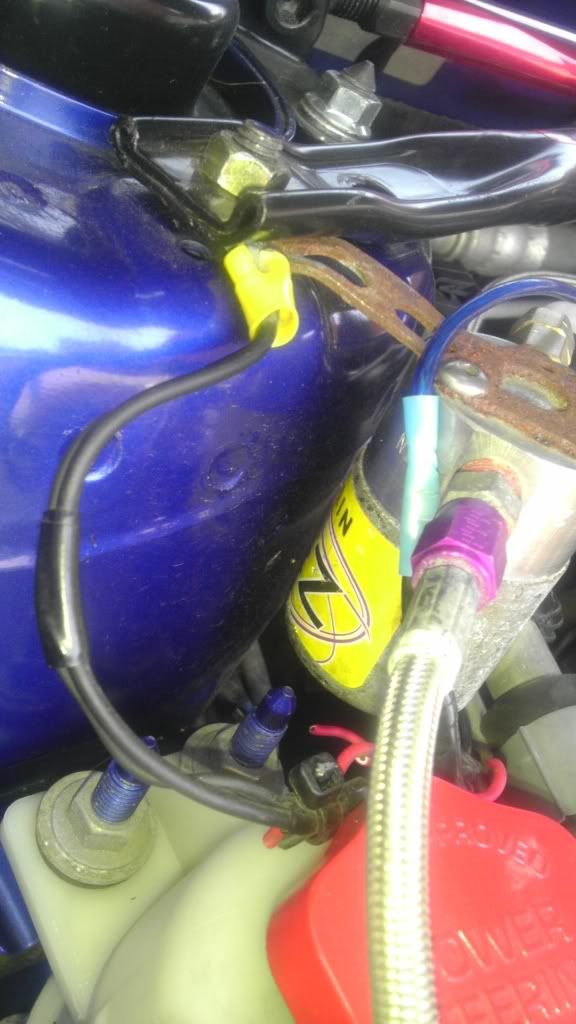 3. Now take the other wire from your nitrous and fuel solenoid, connect them, then take the other wire(s) on your purge solenoid(s) and connect them. DO NOT MERGE YOUR PURGE SOLENOID(s) HOT WIRE(s) WITH YOUR NITROUS AND/OR FUEL SOLENOIDS HOT WIRES, THESE RUN TO DIFFERENT PLACES.
4. Okay, while we are mounting things, find a spot in your engine bay to mount your window switch. This needs to be in the engine bay to prevent a wiring headache. I mounted mine to the side of my ecu cover. Make sure to put your rpm modules into the switch.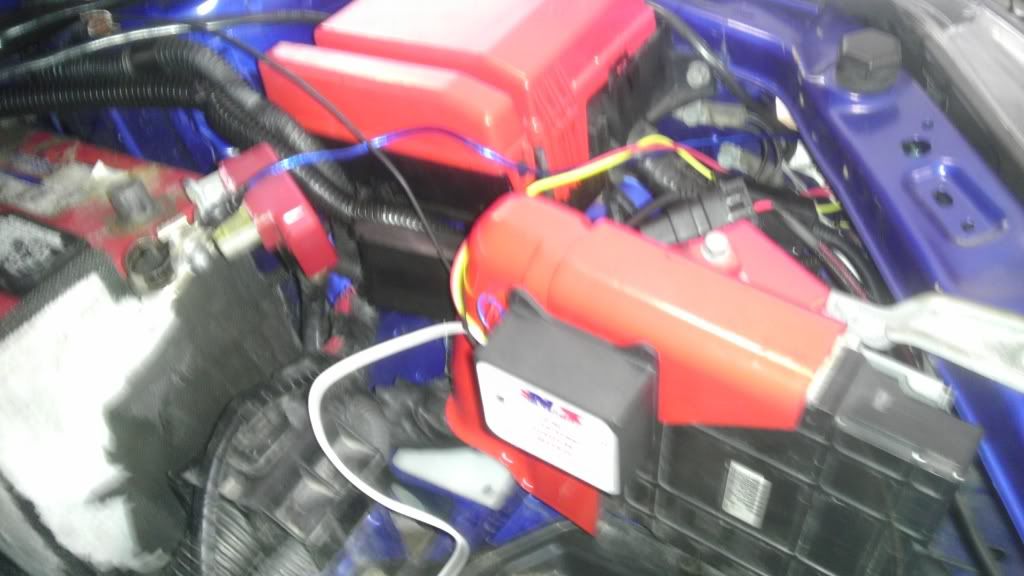 5. Letís jump to the next most annoying part. Mounting the bottle/brackets. You can take my idea, or develop your own. I didnít want to drill through my trunk cover, or any more holes then I needed to, so I decided to innovate. I pulled the piece of carpet that covers the rear cross member that runs under my rf sub. It is held down by two plastic clips. Make note of where these clips are located. I then took a piece of steel, cut it down to 16in X 8in sanded it down and painted it black. I then found four bolts, two shorter than the other. So I could use them to mount my brackets. I put my bottle in the brackets, and lined it up to exactly where I wanted it to be, and marked the bolt holes. I then spot welded the four bolts to the piece of steel. I repainted it one more time, and secured my brackets using locking nuts. I went back to the car, and decided to use the two holes where the plastic clips were located, to secure the new piece of steel to the car. I used grease to mark the two holes, drilled them, and used two big self tapping bolts to secure it down. And there you have it. Bottle mount/brackets.
PIC
PIC
PIC
6. Next letís set up our purge line(s). You should have a purple purge T if you have the same zex kit. You need to secure your fitting onto the T. Like so:
PIC
The Purge T(s) connect to the ďInĒ port on the nitrous solenoid. Your feed line runs into the T. So should go like this: Bottle>Feedline>purge T>Nitrous solenoid>shark nozzle>intake
Now run take your -3a purple capped braided line(s) and run them(it) from your T to your ďinĒ fitting(s) on the purge solenoid(s), as seen below.
PIC
PIC
7. With that out of the way, you can now go ahead and run your feed line from the nitrous bottle to your purple purge T. If you donít have a purge kit, just run directly to the ďInĒ port on your solenoid. We have two options to do this.
The first option:
A. Running it underneath the car. To do this, you will need to drill a hole in your trunk. Go ahead and attach one side of the line to the bottle. Find out where you want to drill and run it. Scope it out from under the car, so you donít accidently drill into your fuel tank lol. Youíll want to use some type of rubber grommet to keep the hose from smacking against the metal edges of the hole. Drill your hole, and feed the line through. Make sure you have no stress on the line anywhere. Follow your fuel line, which should be down the drivers side, zip tie so often. Run it up into the engine bay, still following the fuel line, then over to your nitrous solenoid. Make sure to zip tie in multiple spots to keep it from bouncing around.
PIC
PIC
PIC
The second option:
B. Another common option on other forums is to actually run it inside the car, and out through the firewall. In this case, it would be easiest to run down the drivers side, behind the side panels, and out the rubber grommet in the drivers side fender (where we will be running wires). To do this you will have to cut or drill a hole in the grommet, then push the hose through, run it up behind your headlight (see pics below), and over to the nitrous solenoid.
8. Find a way to mount your purge/nitrous toggle switch(es). This is another thing involving preference. I decided to use my blank button (traction control switch location) and spot for my fog light switch to house the nitrous buttons. To give it a nice oem flow. This is what mine look like: