2009 GS Turbo. 2006+2007 GT
Discussion Starter
·
#1
·
I'm gonna start this by saying that there were no major injuries. Thankfully we both had our seatbelts on, and weren't speeding.
Ok, show and tell time.
Yesterday my girlfriend and I were in a car accident. For it to happen a lot of stupid things had to happen, but the kicker of it all: She had to swerve to avoid hitting someone on an E-Bike. As if you didn't have enough reasons to hate them already.
The E-Bike driver made an abrupt left turn without signalling while barely in front of us while she was passing him. My girlfriend had to swerve to avoid hitting him/being hit by him. At this same time, it began to downpour with rain. The car started to slide, and wanted to spin out. With some good steering input, we were able to have the vehicle stay mostly nose forward as it slid, but could not stop it.
The rear end of the vehicle struck a hydro pole, which made us straighten out and hit a fire hydrant in front of us which brought us to a stop. I'm thinking that due to it being 2 lesser impacts, the air bags did NOT deploy, and am glad about that. We did however get a shower of broken glass from the rear window.
I was able to flag down the e-bike driver who did come back to us, and got some ID from him. I definitely applaud his morals, but not so much his driving ability... "I thought I had enough space, I thought you were far enough back". He didn't deny not signalling when I spoke to him. The police checked, he has functional signals.
All in all, the scariest part of it was that E-Bikes don't have insurance, nor do you need a license to operate one here. But everyone was ok, we spent the day in a hospital waiting to be seen for 10 minutes each. We've each got some pains but we're told it's just soft tissue muscle damage and will be fine.
As far as I know, the E-Bike driver is in a lot of shit. It was pretty cut and clear for the police to place the blame on him. There were witnesses, which helped. And during the rain storm an old couple let us stay in their car to warm up and not get as soaking wet until the ambulance arrived. The road had to be shut down from it, I have no clue if it's a major road as it's 1.5 hours from home for me.
Here's the only picture I snapped, my girlfriend was really upset so I was attending to her more than the accident scene.
The flooding is from the fire hydrant being broken off, not the rain, which stopped minutes after.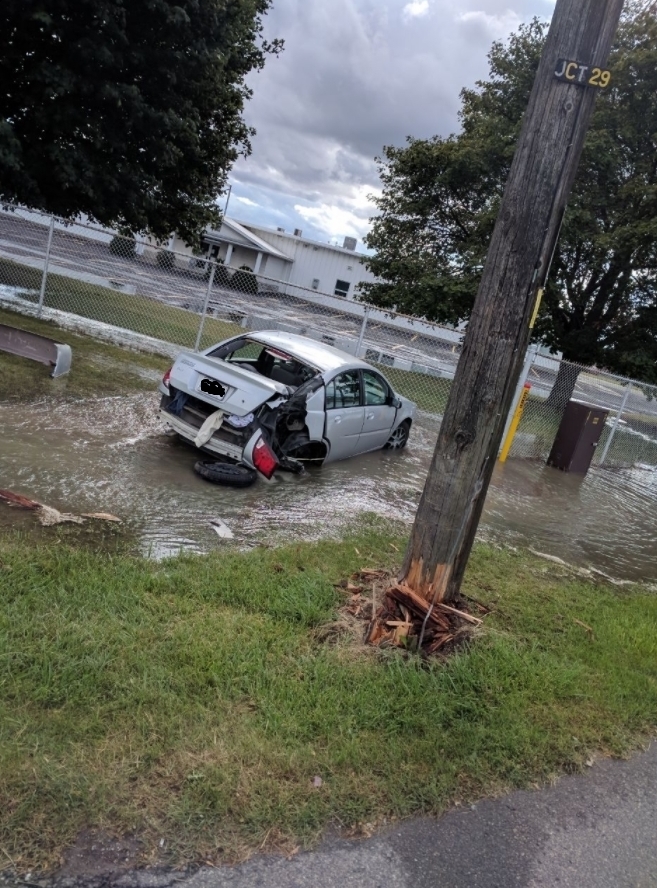 Be careful out there, watch the hell out for E-Bikes. There's probably a good reason they're on that scooter instead of a car. (Lost license, no license, can't be insured, etc)
And also... It won't kill you to miss your turn and loop back around--but turning unsafely could.