Ok so I have been avoiding this because my engine bay is a hot mess:noplease:, and the car is nowhere close to being finished. Plus I still consider myself pretty new here, but it's time I make a thread about my ride so I can update it along the way.:runaway:
A short history about my vehicle, it is a 2006 Eclipse GS with the sound package. I purchased it around June 2010 used with 58,000 miles on it. Before me the car had two previous owners but they seemed to take good care of it. When I picked up the car it already had the windows tinted and a riced out muffler on it. Nothing else about the car had been modified. I really didnt change a single thing on this car till the end of Feb. 2011 that is when the fun started.
Here is a list of mods and what I can think of so far that has to do with this car. I will slowly update this list as I begin to add more and creep towards a more finished product. A few side notes I would like to share is I dont have a muffler rite now, just the downpipe all the way to the rear wheels, I just need 2-3 feet of exhaust piping and a I can begin the welding process for the finished exhaust. Also all of this work was done 100% by me and my room mate. Car has never been to a shop under my ownership for anything.
Here is a link to my Build Thread to go into more specific Install talk/pictures
http://club4g.org/board/gs/20871-project-turbo-gs-lots-pictures.html
Mods:
Performance/Electronics
Currently set at 4.75-5.50lbs
-Garrett T3/T4 Turbo
-TiaL Wastegate w/ 5/7/10lb springs (Heat wrapped external Downpipe)
-Turbo exhaust manifold (Heat wrapped)
-AEM oil pressure Sensor (feed line) biscut
-HKS SSQ BOV
-Eagle Vacuum Block
-Fujita Air Filter
-NGK Iridium Step colder spark plugs
-Treadstone FMIC
-GlowShift Oil Pressure gauge
-AEM F/IC w/ Harness
-AEM Tru Boost controller
-AEM Fuel pressure gauge
-AEM Fuel pressure regulator (not installed)
-HKS Turbo Timer
-Evo8 440cc injectors (not installed)
-Evo8 Fuel pump (not installed)
-OBX Evo8 fuel rail nNot installed)
-38mm Wastegate flange (replacing plastic thing on IM)
-Oil Catch can
-Inovate LC-1 Wideband
-Steel braided Turbo Oil Return Line
-Steel Braided Turbo Oil Feed line
-A mixture of 4ply couplers and T bolts
Suspension/brakes/exhaust
-Progress 1.8' Front 1.9' Rear Lowering Springs
-Centric Clotted Rotors (Front)
-AutoZone Gold Ceramic Brake pads (Front/Rear)
-Turbo Elbow exhaust to Downpipe 2.5' (Heat wrapped)
-2.5-3' Downpipe to Cat (heat wrapped)
-3' Cat downpipe
-no muffler! lol
Show/Interior
-Debaged "eclipse" letters
-PlastiDip rear bottom bumper segment
-Nightshade tinted rear talk lights
-PlastiDip Gas cap
-Gloss black Ralli art style front Bumper
-Stock shifter cut 1'5 inches
-Gloss black Ralli Art Style front bumper w/ Clear coat
-Window Tint (Dont know the % purchased it with tint)
-Welded FMIC mounts to hold it up. They are on the frame and you cant see it
-Shaved front bumper
-OEM Front Fogs
-Pillar gauge
Here are some pictures of when I first purchased it back in June 2010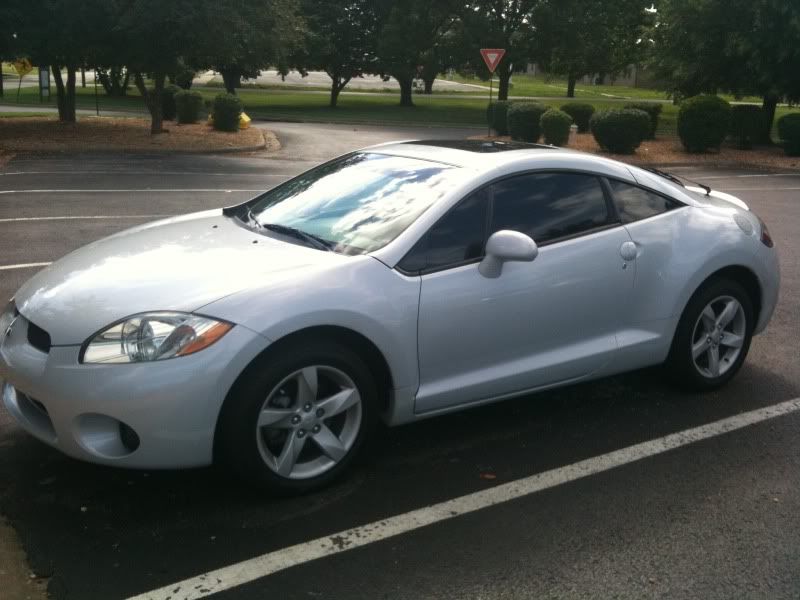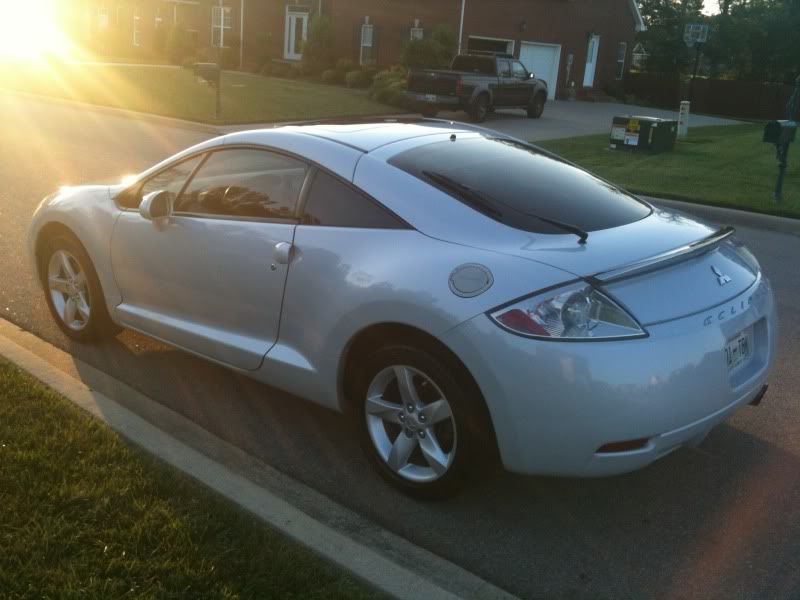 Then I lowered it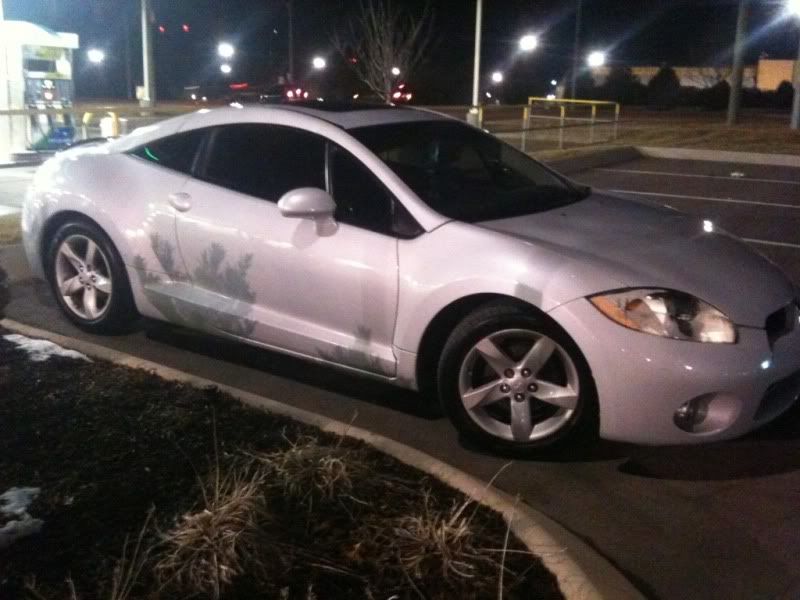 Then I painted the front bumper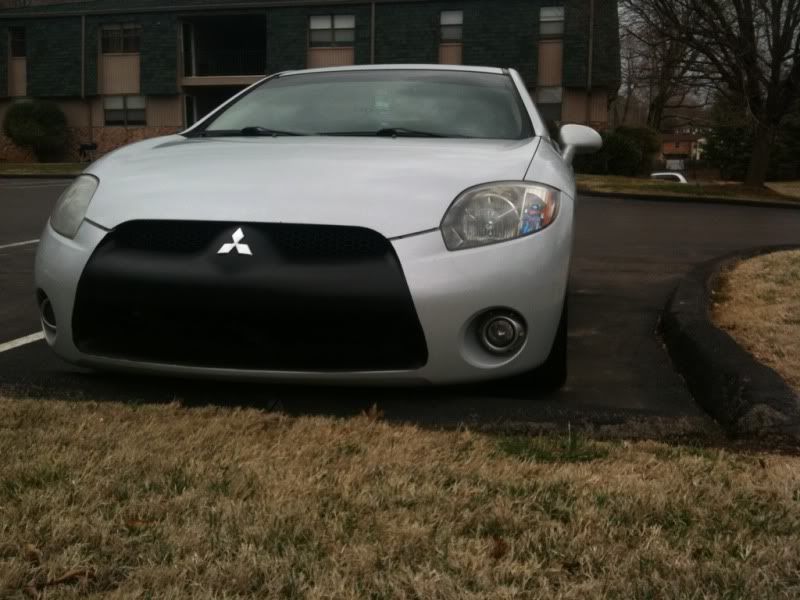 Then came the Turbo Conversion.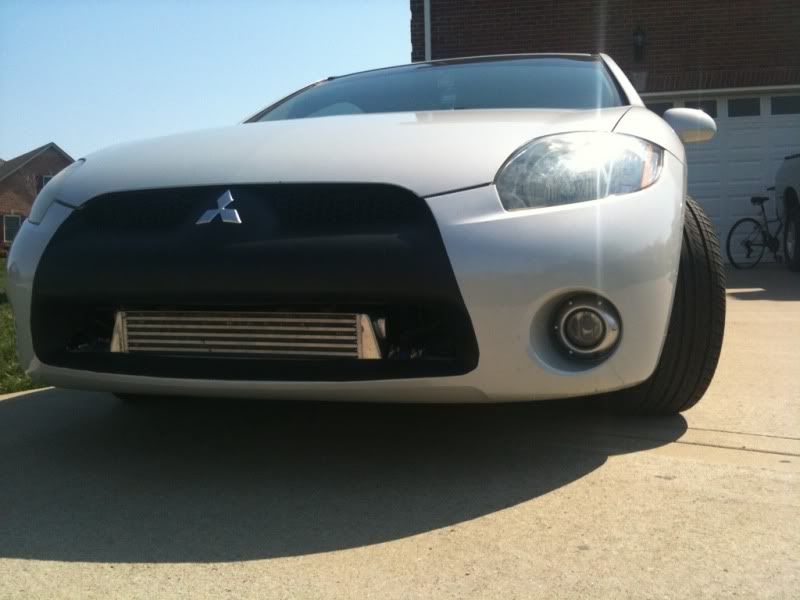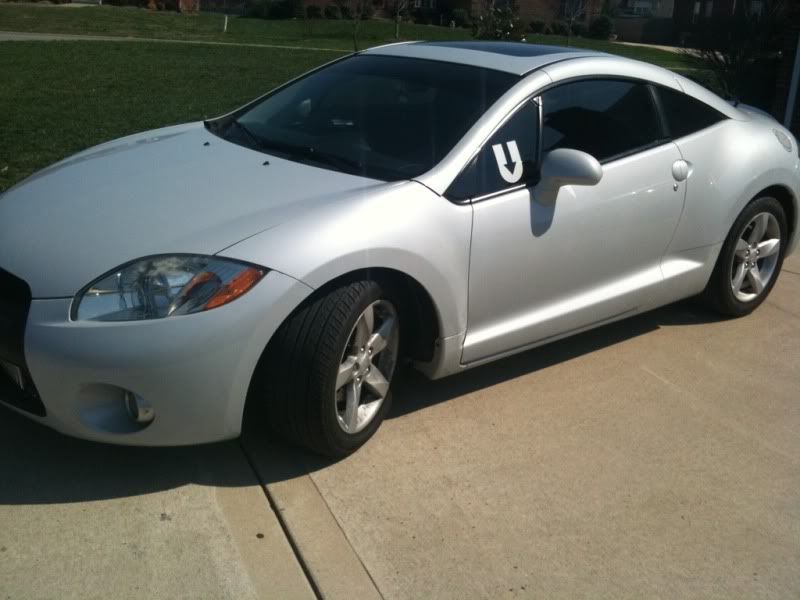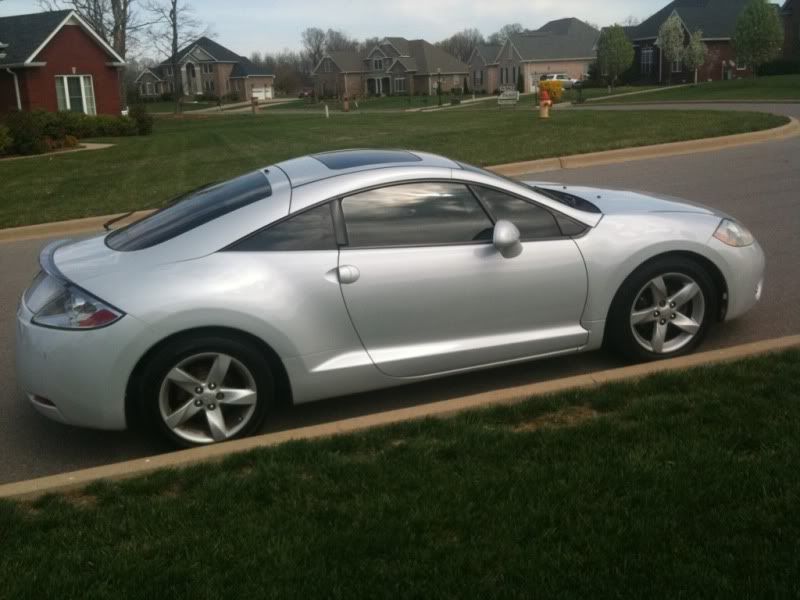 The Engine bay/Interior: Still very messy go easy
My F/IC is underneath the dash
Boost gauge controller ghetto rigged