Ok this involves EVERYONE but is ment for members with less than 15 post who come on to Club4g.org and post questions they find to be important but has already been discussed numerous times but they can't find it when searching (cuz i know noobs always search before posting).
Commonly asked ?'s on Club4g (Members answer these for me, I will quote u so we don't have to keep on posting and making clutter)
Sites posted like autocityimports or RoadRaceEngineering are NOT THE ONLY PLACE TO BUY ITEMS. Just the most specified for our cars and more trusted than other places. Find product # and SEARCH the web to find other dealers. Shop around.
1) What springs should I use to lower?
- This is all about personal choice, how low do u want to go , how much are u willing to spend? All questions u need to ask yourself before asking this question.
a) what does spring a,b,c look like and how low does it go?
Stock Car on 17's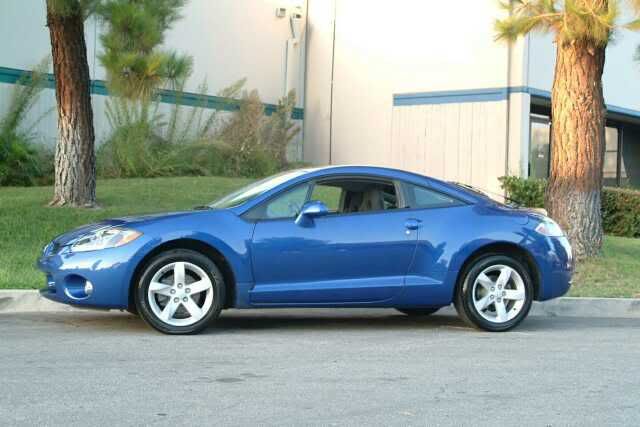 Most Common Springs, more info and 3 other springs can be found at
Road Race Engineering's 4G Eclipse Parts and Performance
2006+ Mitsubishi Eclipse Performance Parts and Aero Parts
-Eibach Pro-Kit
On 17's
On 18's
# 1.2" Front drop & 1.4" Rear drop (4Cyl Model)
# 1.4" Front drop & 1.5" Rear drop (V6 Model)
-Eibach Sportline
On 17's
# 1.8" Front Drop & 2.0" Rear Drop (4Cyl Model)
# 2.0" Front Drop & 2.0" Rear Drop (V6 Model)
-Progress
On 17's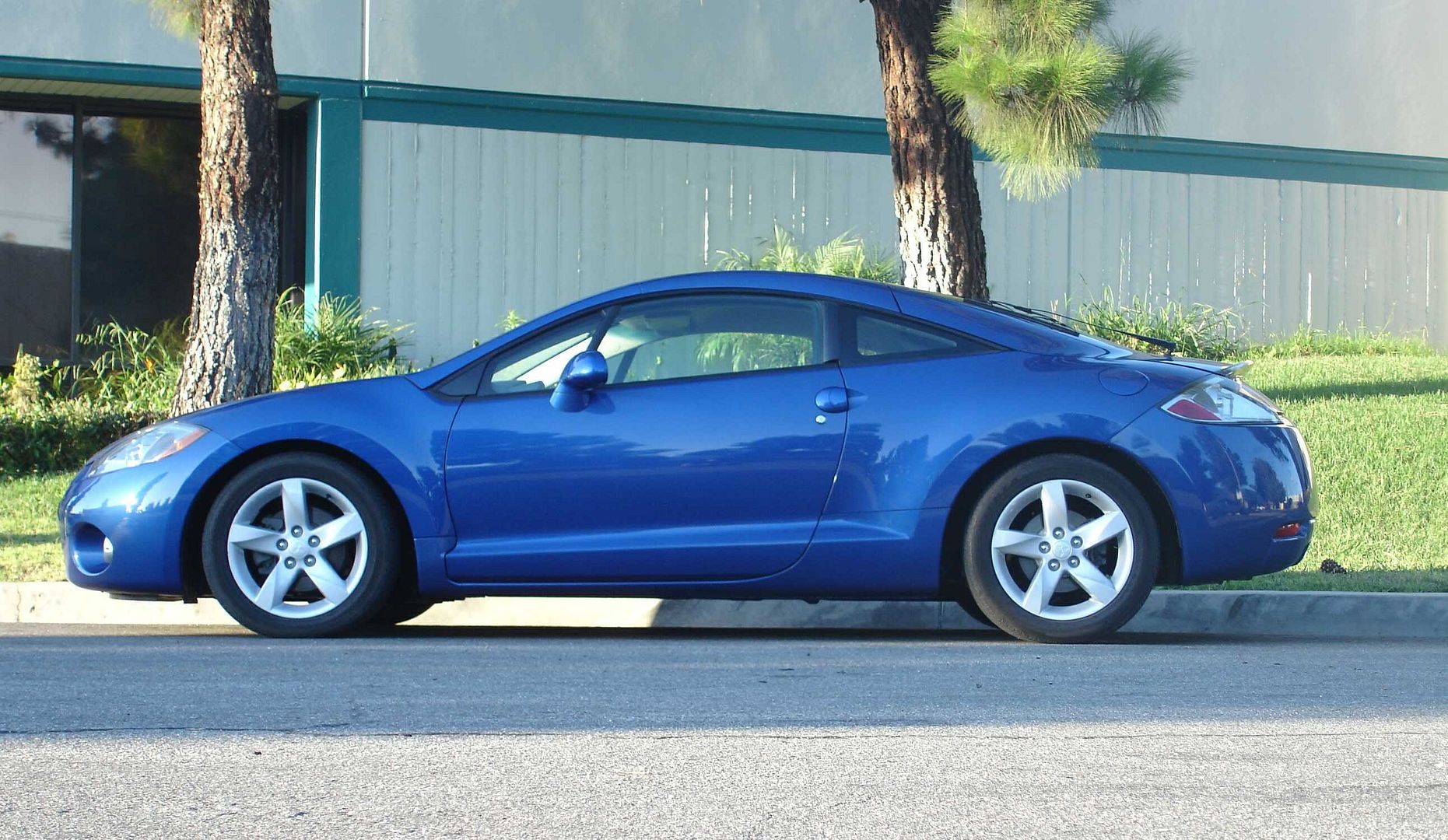 # 1.8" Front drop
# 1.8" Rear Drop
-Tanabe
On 18's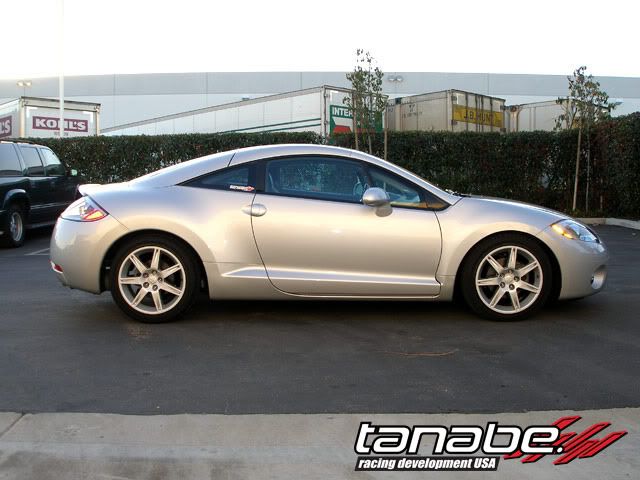 #1.4" Front Drop
#1.5" Rear Drop
-Tein H-tech
On 18's
#1.9" Front Drop
#2.0" Rear Drop
-Tein S-tech
On 18's
#2.5" Front Drop
#2.6" Rear Drop
-Works
On 17's
#1.3" Front Drop
#1.3" Rear Drop
b) how much are the springs?
2006+ Mitsubishi Eclipse Performance Parts and Aero Parts
Road///Race Engineering Mitsubishi Eclipse Parts and Performance
U can find other prices on these items. Get the item number and search it on the internet and chose where u want to buy it from. These are just a the "normal" places and well known where ppl buy from.
c) Any problems?
If you go past 2" inches there may be problems without getting stock camber settings. Also that low can cause blown struts later on. But this has not been proven. All speculation. Also changing ride height for performance allows your center of gravity to be lower. Generally speaking, the lower the car, the lesser the amount of G that your car has to deal with when taking sharp turns, due to weight and centrifugal forces at play. But that's not all of the variables that determine how well your car handles. You have to also consider the amount of slop, or tension your suspension components have, or the amount of play, or the effectiveness of the hardware that equalizes forces between the two tires on each axle, etc. Lowering a car for "performance" often translates to the car handling feeling more "solid" around the turns, and that is mostly due to Damping Force. If your shocks or springs are too tight, you sacrifice ride quality.
Another more common issue with lowering a vehicle with springs is that shocks may bottom out. This is commonly alleviated by removing the bump stops on the factory or aftermarket shocks/struts. Note, though, that there's a perfectly good reason for those bump stops to stay on.
d) Reason to lower?
Looks and better handling, and Jonrod won't yell that u. :lol: See above.
2) Coilovers......what are they and why?
NOW if can or want to shell out 600+ dollars for ur suspension the Coilovers are the way to go
Coilovers are, simply put, an integrated assembly of a shock body and springs/struts. They are designed to be
1. Adjustable - ride height and shock damping rates, that
2. Work well together (no figuring out - already pre-assembled), and
3. Lighter than factory arm assemblies.
It's been posted somewhere that factory shock/strut and spring assemblies are MUCH heavier. Strut assemblies weigh approximately over 50lbs, and shock assemblies approximately 35. They're also mostly made of regular carbon steel, which makes them both sturdy and heavy. Coilovers, on the other hand, are made of a combination of steel and aluminum. Most coilover setups will also have camber plates on the shock/strut tops to compensate for varying ride heights.
Finally, you go coilovers mainly because you want to tweak your ride between performance and comfort whenever you need it. The softest settings on Megan Racing coilovers, for instance, emulate that of factory ride quality (just my assumption, at least). That, without being too squishy at the turns. You get a less bumpy ride while taking on curves like a champ.
These can be adjusted to any height so don't let the pics fool u. Ride height is urs to pic. Some use a key to lower and raise some use an electronic controller.
Options:
Megan
Featuring 32 Levels of damper force adjustment, full-height adjustment, these damper kits are then perfectly matched with front and rear Pillow Ball upper mounts for camber correction.
The adjustment of the damper is as simple as can be with a built-in knob at the top of the damper mount for easy access. Simple adjustments can be made to tune to your style of driving and comfort level desired. Single-Adjustable dampers make suspension adjustments easy to tune whether you're a professional mechanic or an automotive enthusiast with amateur mechanical skills.
The height adjustment is made easy with CNC-Machined locking perches for accuracy and smooth adjustment. You can raise your car up to factory height for OEM appearance with performance handling or you can drop your car all the way down for a formal racetrack and an aggressive stance lowering your center of gravity to gain full potential of your car's handling capabilities.
The Megan Racing Damper Kits come with fully adjustable Pillow-Ball upper mounts to easily tune and adjust your camber. Adjustable camber gives you an edge on most suspension setups, as you can easily tune your car for any ride height which improves handling, predictability and furthermore tire wear, which is a great benefit both on the racetrack and on the street.
* 2006+ Mitsubishi Eclipse Megan Racing Coilover Damper Kit
* Spring Rates: 10kg Front and 6kg Rear
* 32 Levels od Adjustable Damper
* Pillow Ball Upper Mounts
* Adjustable Ride Height
* 1 year manufacture-defect warranty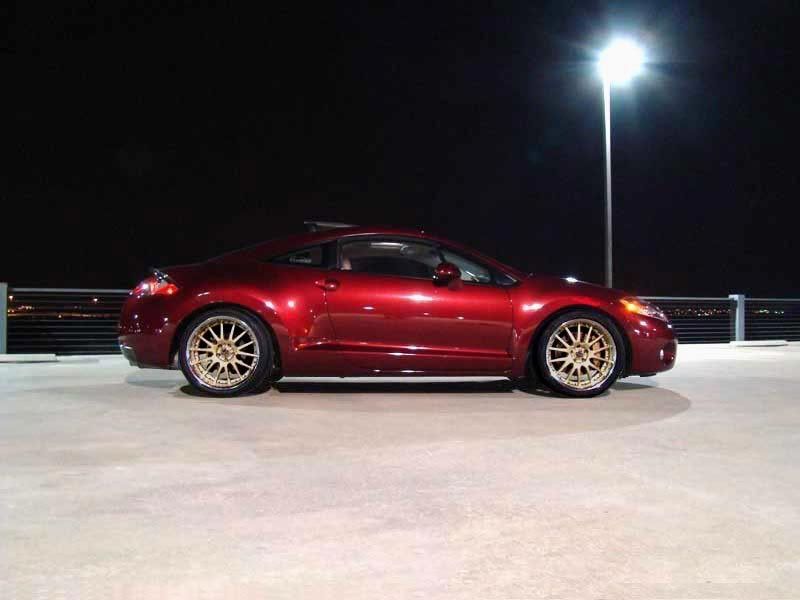 Pics of the Coilovers
Coilovers pictures by slippercream - Photobucket
Cusco
The Cusco Zero-2E Coilover Kit for the 2006+ Mitsubishi Eclipse adds the option to electronically control the shock adjustment from inside the car. Utilizing the E-Con (sold separately), you can select what stage (of 5) you want the shock set at. With great features such as:
* Electronically controlled shock adjustment (w/ E-Con)
* Pillowball upper mounts
* Adjustable shock casing
* Independent adjustable spring perch
* Stainless steel thread body
* Stainless steel case lock nut
* Stainless steel spring perch/lock nut
* Specially coated lower bracket
Fits perfectly for any style driving. The advanced design features 5-stages of shock adjustment that exhibits incredible performance!
Create a comfortable ride for your passengers. Too stiff? Comfort is just a button away. No more frustrated passengers!
Larger size pillowball used in the upper mounts. Endures through the hardest drives!
Height adjustment and spring pre-load are designed to be adjusted independently. Lower your car with the adjustable shock casing while retaining the overall shock stroke. Set the spring pre-load to your desire and feel the difference in driving and traction.
Cusco developed a new shock absorber for the Zero-2E that further reduces friction resistance of the dampening force to achieve high performance with the vehicle lowered.
Worried about rust? No problem with the Zero-2E's stainless steel lock nuts, lower seat, and threads. With the external cylinder and threads being stainless steel, adjusting the height will be smooth. The lower bracket/case has a new special coating as well. The internal as well as the external surface has been coated.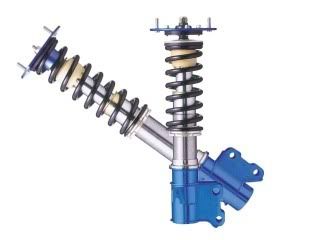 Tein SS
TEIN has developed advanced technology to design the shell case and stroke to bring out the full potential of your 2006+ Mitsubishi Eclipse. These features of the TEIN Super Street Damper Kit were designed with greater performance to satisfy all your driving demands. This high performance damper can be used for weekend racing and/or daily driving. The discomfort caused by uneven roads or bumps are eliminated on daily street use. For race use, the ride height adjustable system enables you to adjust ride height and 16 levels of damping force. In other words, you can set your vehicle to meet all situations!
* 2006+ Mitsubishi Eclipse TEIN SS Coilover Damper Kit
* 16 levels of damping force adjustment (compression and rebound together)
* Ride height adjust range front (-1.77" to -2.91")
* Ride height adjust range rear (-0.67 to -2.91")
* Spring rate front (500lbs/in)
* Spring rate rear (280lbs/in)
EDFC (Electronic Damping Force Controller) makes it possible for the driver to control the damping force by controlling a motor installed in the shock absorber while being seated in the driver's seat. Since the damping force can be manually controlled with ease to meet different situations, the driver can enjoy variations in the suspension setting.
Pics
Airbag
THESE HAVE NOT BEEN DONE TO A 4G YET